LumiQuest UltraStrap release
Oct 07 2010
Update: LumiQuest UltraStrap review
LumiQuest has introduced a new attachment strap for the hot shoe flashes. LumiQuest UntraStrap is a Velcro-based strap that is not only non-slip and non-adhesive, but it is also stretches to apply tension on the flash head for the most secure grip.
Please find the the official press release below.
Also read: LumiQuest Snoot XTR release, LumiQuest Softbox LTp release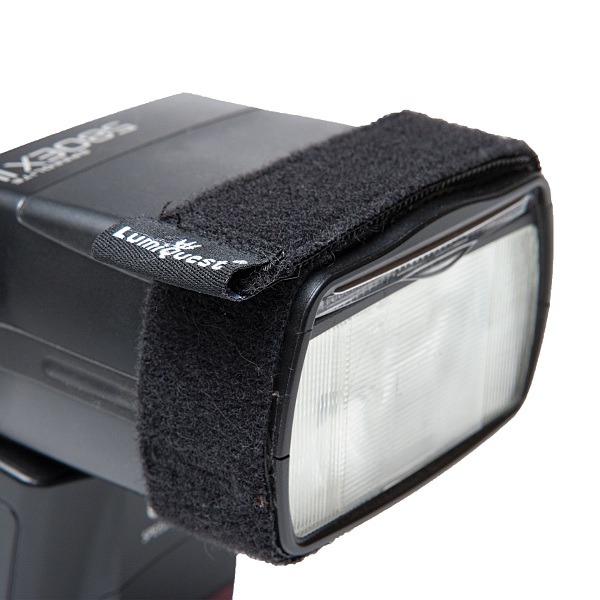 Press release:
LUMIQUEST'S NEW ULTRASTRAP - THE MOST SECURE, NON-ADHESIVE FLASH ACCESSORY MOUNTING STRAP
New Braunfels, Texas - October 7, 2010: The LumiQuest UltraStrap is the most secure non-adhesive flash accessory mounting strap ever manufactured.
The marriage of non-skid beaded neoprene and VelcroŽ Loop results in a strap that applies approximately 3 pounds of tension to the flash. Coupled with the unique patent pending design that has uniform loops in the VelcroŽ Loop material, the UltraStrap will not slip when attached to the flash. The rugged UltraStrap attaches to most flashes in seconds to provide a secure attachment point for all LumiQuest accessories.
The LumiQuest UltraStrap will be available by late October at authorized dealers and will have a special introductory retail price of $8.95.
For more information:
Heidi Kenny
[email protected]
(830) 438-4646

If you have any questions or comments, please post them below.
Comments