LumiQuest Snoot XTR release
Oct 07 2010
Update: LumiQuest Snoot XTR review
LumiQuest has released an upgraded version of its snoot. LumiQuest Snoot XTR includes the original LumiQuest Snoot and an extender tube that allows you varying the light beam from 5 to 10 degree angles.
Please find the the official press release below.
Also read: LumiQuest UltraStrap release, LumiQuest Softbox LTp release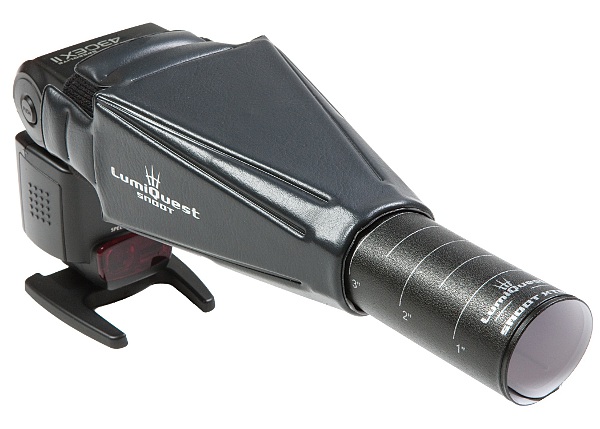 Press release:
NEW LUMIQUEST SNOOT XTR WITH TELESCOPING EXTENDER
New Braunfels, Texas - October 7, 2010: The LumiQuest Snoot XTR is a two piece kit that is designed to isolate the light to a very specific area.
When used alone, the Snoot will isolate the light to approximately 10°. By inserting the telescoping extender with "hash marks", the photographer will consistently isolate the light to an area of 5° or less. The Snoot XTR is a great accessory in the camera bag for use when needing to illuminate a specific area of a scene with little or no effect on the surrounding area. In addition, it works great in the studio or on location as a hair or accent light.
The Snoot XTR will be available in Mid-October at authorized LumiQuest dealers and will have a suggested retail price of $34.95.
For further information:
Heidi Kenny
[email protected]
(830) 438-4646

If you have any questions or comments, please post them below.
Comments