LumiQuest debuts 10 tutorial videos on their web-site
May 13 2009
LumiQuest has announced the launch of their first ten tutorial/educational videos. Seven out of these ten videos are short tutorials on the company's most popular products. The other three explain the basics of flash photography and light diffusion. LumiQuest creator Quest Couch explains main ideas behind the design of his products (such as Softbox family of diffusers, Big Bounce and Ultra Soft, Soft Screen, etc.).
The videos can be found on the individual product pages, tutorial page, and a YouTube page. The company expects more videos to be posted.
Press Release:
LUMIQUEST DEBUTS TEN TUTORIAL VIDEOS ON THEIR WEBSITE
New Braunfels, Texas - May 13, 2009
LumiQuest, the manufacturer of bounce and diffusion products for shoe mount flashes has just added a new section to their website www.lumiquest.com entitled Tutorials on our most Popular Products.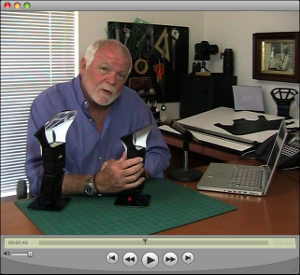 The videos average 3 minutes in length and feature Quest Couch, the Company Chairman and designer of the LumiQuest products. There are 7 product videos, covering LumiQuest SoftBoxes, ProMax System, Big Bounce and UltraSoft, Quik Bounce, FXtra, Snoot and the SoftScreen for the pop-up flash on Digital SLRs. "What I try to do in each video is to tell photographers what featured products will and won't do and more importantly Why and How they soften the light", states Quest Couch. "It's all about selecting the right tool for the job."
In addition, 3 Videos are entitled Myths and Misconceptions (I, II, III). According to Couch, there are many myths and misconceptions about flash photography. "Flash photography and the way LumiQuest products spread the light is not magic", Couch says. "Both are based on laws of physics. In these videos I attempt to simply explain some of these misconceptions so hopefully photographers will have that "aha" moment to understand how the light works as it pertains to working with their flash."
More tutorial videos will be produced and posted both on www.lumiquest.com and YouTube.
If you have any questions or comments, please post them below.
Comments