LumiQuest Big Bounce flash diffuser review: first impression
Dec 28 2009
Buy from Amazon.com
LumiQuest Big Bounce
LumiQuest Big Bounce flash diffuser (best flash diffuser rating: 8.41) is one of the largest flash light modifiers on the market today. (The only LumiQuest accessory that comes close in size is Softbox III). Big Bounce redirects light towards the subject with a large reflecting surface set at 45 degrees. The light diffusion is increased by a translucent screen placed in the front of the reflecting panel. According to LumiQuest, the light loss is approximately 3 stops, which is pretty significant, but this is the price you pay for the size of the light source you get with this large diffuser.
When mounted on a flash, LumiQuest Big Bounce sits high above the camera and, therefore, creates more natural look in the images while reducing the chances of the "red eye" issue.
The size of Big Bounce, when folded flat, is 8.5" x 11", which requires a rather large pocket in your gear bag.
LumiQuest Big Bounce is designed to be attached to a wide side of a flash head. That means you have to use a flash bracket to be able to shoot in the vertical camera position (portrait orientation).
The size of LumiQuest Big Bounce makes it rather heavy and bulky. The Velcro tabs that attach it to a flash head hold up reasonably well, but the attachment does not feel very secure. It looks like LumiQuest realized this to be an issue, because their newer Softbox III diffuser comes with an additional strap that goes around attachment tabs. Since Big Bounce does not offer this improvement, we used our own strap to secure the diffuser on the flash head. The difference is significant. With the additional strap in place, Big Bounce feels attached more securely, and it is very unlikely to fall off. (A rubber band does the job of improving the attachment, as well.)
The diffusing screen of LumiQuest Big Bounce is designed in such a way that it not only sends the light forward but also somewhat to the sides. Thus, it adds to the width of the frame coverage delivered by the diffuser. (Please refer to our light coverage test for more details about the light spread of Big Bounce and other modifiers.)
LumiQuest Big Bounce is not an all-around flash accessory. It works well for portraits from distances up to 6-8 feet, creating a relatively large source of light. It can be a useful tool for product and food photography. Also, being significantly larger than most of the macro objects, Big Bounce can be used as a source of very soft light in macro photography. LumiQuest Big Bounce is very well built, but if you decide to buy this diffuser, we recommend to use a Velcro strap for more secure attachment to a flash head.
Below are the sample images taken with LumiQuest Big Bounce flash diffuser:
| | |
| --- | --- |
| | |
| mannequin head from 3 feet | mannequin head from 6 feet |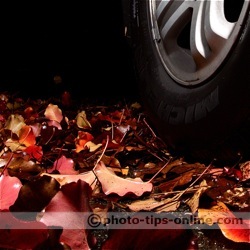 off camera from 3 feet
If you have any questions or comments, please post them below.
Comments