Portrait Professional photo editing software review
May 18 2012
Buy from Amazon.com
Portrait Professional 10
Portrait Professional Studio 10
Regardless of what type of photography you do, post-processing is usually a critical step in creating final images. While I've been using Photoshop for around a decade, I have to admit I'm still pretty slow :). It's not a surprise that I'm not alone! Photoshop does have a big learning curve and for the millions of amateur photographers and photo editors like me, you can easily end up spending hours playing with it.
After taking some time to try out a range of software programs designed for more general photo editing and management, I have recently learned about Portrait Professional, a software package that is aimed at a more specific task of improving portraits. I have to say that after only a short time with it, I'm already a big fan! What Portrait Professional offers is a quick, easy, and affordable way to edit portraits, especially for anyone who lacks speed or skill with Photoshop.
Portrait Professional retails normally for $89.95, but it is often on sale (and is currently) for only $39.95. This means it costs only about the total of a few Photoshop add-ons. There is also a Portrait Professional Studio (adds about $20-$30 or so to the price), which gives you compatibility as a Photoshop add-on and lets you work with RAW files. I purchased the non-studio version, which, while I won't be using it too much, is totally worth it, because of the time-saving convenience. The future upgrades are included, as well.
Portrait Professional provides very powerful tools to edit, touch-up, and even reshape a person's face. It gives you these tools with a very easy learning curve, thanks to the great tutorial and simple interface. After loading a photo, you are guided through some easy setup steps, before you're allowed to take over. Once the program has given you control, you can use a range of sliders to control a large array of elements. For ease-of-use, there are levels to the controls, letting you move a larger, general slider to control a whole category, or go deeper and adjust aspects of the category. Portrait Professional also offers a selection of popular automatic one-button press effects to change or improve your portrait. One of its most intense features lets you "sculpt" a person's face, changing the shape of it, seamlessly and naturally. And of course, it offers brush-like tools to accurately touch up or remove blemishes.
So, Portrait Professional is perfect for anyone who isn't a pro at Photoshop or even a pro Photoshop user who wants to make a quick touch up job of a photo. Also, don't forget that for $20 more, you can get the Studio version that integrates with Photoshop. The only issue I found using this program was the ease of overdoing any touch up or edit (which is my fault, not the program's, of course). Once you get more in-depth with the functions, you'll get the most out of the very fine level of control offered.
Finally, I have to mention the free trial of Portrait Professional lets you play with all the features of the paid version, so you know exactly what you're getting. The only limit is that it puts a big demo watermark on all of your edited photographs, meaning you can't save any of them to use. If find this to be a great upfront way to demo a piece of software, so don't hesitate to give the trial version a go!
Below you can see the intro steps and a few examples of some presets. (Image courtesy of Fotopedia)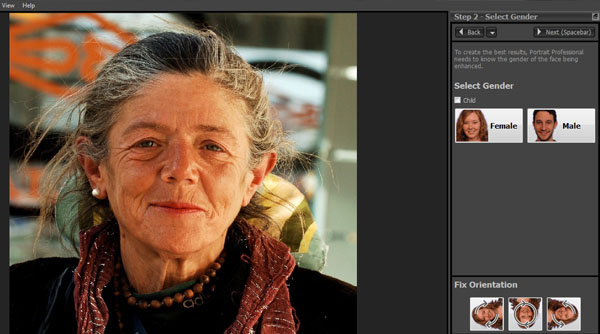 When you load up a photo, you start up by picking a gender to let Portrait Professional know which direction its automatic tools will go.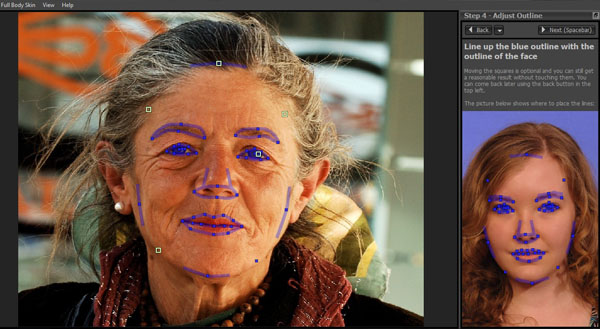 You are then guided to select key points on the subject's face. Don't worry about tweaking it too much, the software can figure it out.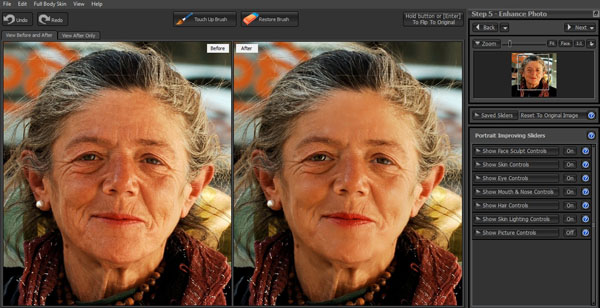 This screen shows the original photo on the left and the initial automatically edited version on the right. You can revert the right image to the original and make all the changes yourself. Note the seven slider categories on the right. Each of them expands to show a range and additional levels of sliders and options.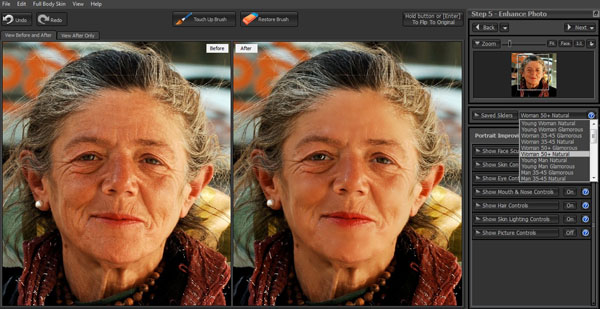 The right photo shows an example of one of the many presets you can use. This one is Woman 50+ Natural, which applies a range of natural improvements suited to the portrayed subject.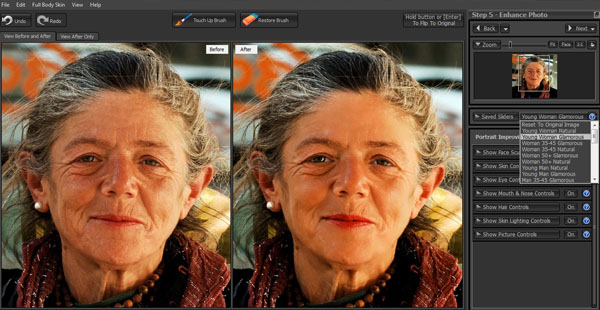 The right photo now shows the Young Woman Glamorous preset. You can note the smoother, more tanned skin, fuller, redder lips, and other subtle changes.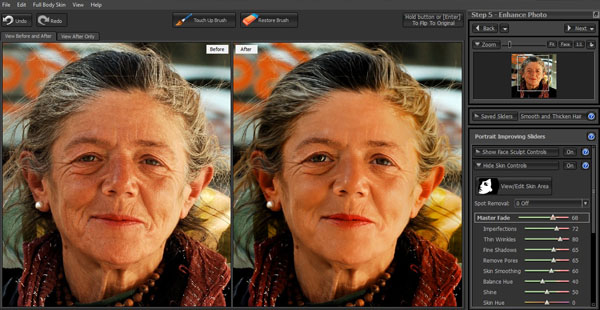 The right photo now shows a much heavier use of preset tools in use. On top of the Young Woman Glamorous, I've added Remove Wrinkles, Bigger Eyes, Darken Hair, and Smooth and Thicken Hair, I've also left open the Skin Control slider menu on the right, showing just a part of the huge selection of user-friendly edits you can make. Even with several layers of preset effects (no additional tampering by me), it still looks more believable than most of the photos seen in Cosmo or Maxim magazines.
Guest writer: Simon

Simon is the blogger for social photography site ViewBug.com, where photographers can connect and share photos, as well as compete in photo contests and competitions.
If you have any questions or comments, please post them below.
Comments