Gary Fong WhaleTail flash diffuser review: first impression
Jan 15 2008
Buy from Amazon.com
Gary Fong WhaleTail Reporter
Gary Fong WhaleTail Studio
Note: Gary Fong WhaleTail diffuser comes in two sizes: Reporter (smaller) and Studio (bigger). In this review, we discuss the Studio version
In a nutshell
Gary Fong WhaleTail flash diffuser (best flash diffuser rating: 8.12) is a hot shoe flash accessory that creates "bare bulb" lighting effect, similar to Gary Fong Lightsphere. In addition, it gives you some more control over the light by employing a set of two translucent flaps. One flap controls the amount of light thrown towards the ceiling, whereas another one changes the light output towards the back wall or the subject. WhaleTail diffuser is relatively heavy and bulky. It does not collapse and requires a rather significant amount of space in your gear bag.
Body
Gary Fong WhaleTail is made of translucent plastic that is rather thick and heavy. The WhaleTail Studio version weighs around 160 gram depending on the spacer size. Being so heavy, it is practically useless with some flashguns (like Metz 48 AF-1, for example) that do not lock at angled head position.
The body of the diffuser is pretty big and does not fold. So, it requires some extra space in your gear bag. A possible save here, as Gary suggests, is to carry WhaleTail outside of the bag. The construction is sturdy and won't break easily.
Flash mounting
Mounting of WhaleTail onto a flash is pretty simple. A rubber band goes around the flash head, and a Velcro strap secures the diffuser in place. WhaleTail fits most of flash heads, and it is very unlikely to fall off when in use.
Flaps
The flaps are easy to attach and detach. However, since they're plastic, there is a possibility that after a while, they will wear up and won't stay put at some angles. It actually is the case with our brand new WhaleTail already, but this issue can be easily fixed. Heat the flaps up (let say, in hot water) and squash the connectors a little bit for a better grip. Gary claims the flaps are unbreakable, and they are, indeed, very sturdy, bendable, and unlikely to break.
Horizontal/Vertical shooting
When mounted on a flash head, the diffuser sits high above the lens axle. This position gives a natural looking light from the above of the object you shoot and eliminates the red eye problem. The way WhaleTail is attached (the flash head is turned 90 degrees to the left or right) allows easy switching between horizontal and vertical shooting modes. Also, when shooting vertically, the light source created by the diffuser is still above the camera, which often eliminates the need for a flash bracket.
Accessories
There is a number of accessories available for WhaleTail, including colored inserts, amber and chrome (high-reflective) flaps that are sold separately. Colored inserts and flaps let you play with white balance and add special effects to your pictures (especially when using multiple flash setups). The chrome flaps add power to the direction of your choice since they do not pass the light through.
Using the WhaleTail
When shooting indoors, Gary Fong WhaleTail produces soft wrap-around light, bouncing off of side and back walls and ceilings. The softness and power of light can be adjusted using different sides of the diffuser and changing flaps position. The forward facing surface can be compared to softboxes from 7x4 to 7x7 inches in size (the Studio version).
Comparison shots
| | |
| --- | --- |
| | |
| bare flash bounced from the right side | bare flash bounced from the ceiling |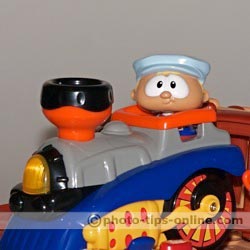 direct flash
| | |
| --- | --- |
| | |
| camera in landscaped orientation (horizontal), flash on camera, diffuser above the camera, all flaps closed | camera in portrait orientation (vertical), flash on camera, diffuser to the camera's left, all flaps closed |
If you have any questions or comments, please post them below.
Comments