Canon launches Speedlite 320EX and Speedlite 270EX II flashes
Feb 07 2011
Buy from Amazon.com
Canon Speedlite 320EX Flash
Canon Speedlite 270EX II Flash
Canon has introduced two new flashes: Canon Speedlite 320EX and Canon Speedlite 270EX II. Both units feature wireless capabilities. Canon Speedlite 320EX can be set to one of three groups and one of four channels, while Canon Speedlite 270EX II is fixed to group A and is triggered by all channels. Also, the new flashes offer remote shutter release function that allows you to trigger your camera from the flash. This interesting feature is valuable when you want to frame your image first (by setting your camera on a tripod) and move the flash around experimenting with lighting, rather than positioning the light and playing with framing and composition.
Canon Speedlite 320EX not only fills the gap between Speedlite 270EX II and Speedlite 430EX II in the Canon's line of flashes, but it is also the first Canon flash gun to have a video LED light. With more and more DSLR's entering the market with video capabilities, this new feature is very welcome.
Canon Speedlite 320EX also offers swivel head and limited flash zoom functionality. The head rotates 90 degrees to the right and 180 degrees to the left. One of the two available zoom positions (24mm and 50mm ) have to be selected manually.
Please find the official press release below.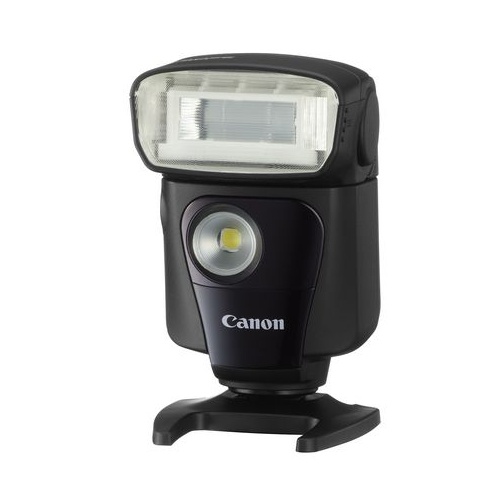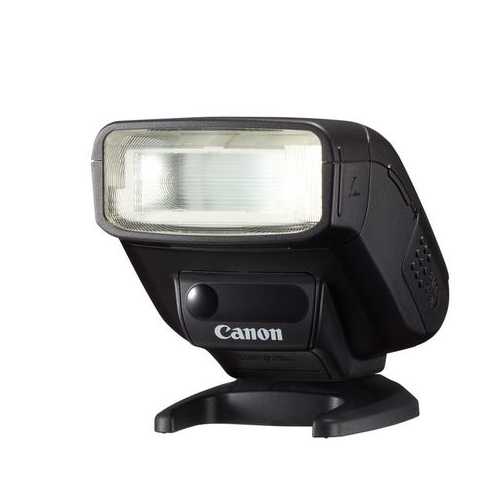 Press release
LAKE SUCCESS, N.Y., February 7, 2011
New Canon Speedlite 320EX and Canon Speedlite 270EX II
The new Canon Speedlite 320EX is designed to provide DSLR users with a lightweight and versatile external flash solution. Along with the new Speedlite 320EX regular flash functions, it includes a built-in LED continuous light option that is capable of providing full-time illumination for short distances when shooting video on a DSLR or PowerShot digital camera. Ideally paired with the new EOS Rebel T3i, the new Speedlite 320EX enables bounce flash shooting with six positions including ceiling bounce for vertical shooting, and rear-wall bounce. The Speedlite 320EX also includes a new remote firing function and can remote fire any EOS DSLR camera that has a built-in wireless remote control function or Integrated Speedlite Transmitter such as the new Rebel T3i, EOS 60D, or EOS 7D DSLRs. The new Speedlite 320EX provides photographers with all the great lighting options Speedlites are known for with the added capability to shoot HD video with a full-time LED light option.
The new Canon Speedlite 270EX II, the successor to the popular 270EX Speedlite model, is a compact, lightweight external flash option for Canon cameras including select Canon PowerShot models. Ideal for use with the new EOS Rebel T3, the new Speedlite 270EX II uses only two AA batteries and enables bounce flash shooting with four position steps from 0 degrees to 90 degrees. Like Canon's high-end Speedlite flash models, the 270EX II allows users to control flash functions and input settings using the camera's LCD monitor. The flash also features a quick-lock mechanism and a metal mounting foot for secure and easy attachment and reliable contact. In addition to the features of 270EX model, the Speedlite 270EX II adds a remote firing function similar to that of the Speedlite 320EX. Both new Speedlites can also be used as slave flash units in E-TTL wireless autoflash configurations with other E-TTL compatible EOS and PowerShot cameras. Canon's Speedlite 270EX II is the new compact and versatile lighting tool for photographers empowering them with multiple light options, compact-size and portability.
Pricing and Availability
The Canon Speedlite 320EX is scheduled to be delivered to U.S. dealers in April for an estimated retail price of $249.99. The Canon Speedlite 270EX II is scheduled to be delivered to U.S. dealers in the beginning of April for an estimated retail price of $169.99.
If you have any questions or comments, please post them below.
Comments