LumiQuest Packaging with Microsoft Tags
Sep 13 2010
LumiQuest changes its packaging to allow potential buyers, who use Smart Phones, to quickly access detailed information about LumiQuest products. Check out the press release below.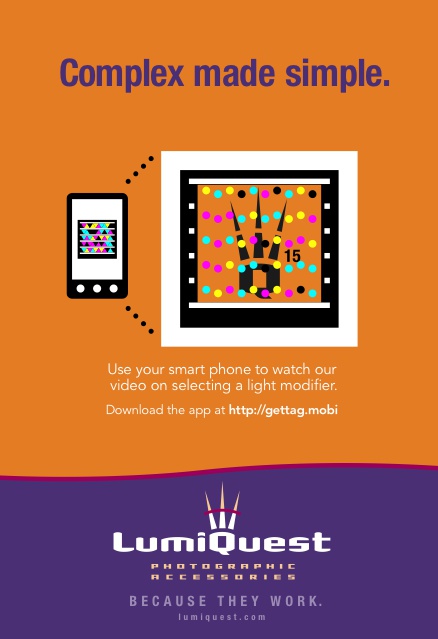 LumiQuest Packaging with Microsoft Tags + Smart Phones = Instant Access to LumiQuest Product Information Videos
New Braunfels, TX, USA, August 10, 2010:
LumiQuest packaging now features Microsoft Tags that will allow photographers to scan the Tags from their smart phone to instantly view a product video, tutorial or receive other pertinent information to help them select the right LumiQuest product for their application.
In announcing the use of Microsoft Tags, Quest Couch, CEO and designer of the LumiQuest products, stated, "Smart phones are becoming essential tools enabling all of us to work more efficiently. By adding Tags on our packaging we are empowering photographers to connect seamlessly to product videos and get instant access to understanding the benefits of the LumiQuest product they are considering purchasing."
All LumiQuest products will feature a Microsoft Tag unique to that product. By scanning a smart phone over the Tag, a short video pertinent to that LumiQuest product will run. The free Microsoft Tag app can be downloaded at http://gettag.mobi.
For more information contact
Heidi Kenny
[email protected]
(830) 438-4646
If you have any questions or comments, please post them below.
Comments