LumiQuest Flickr group photo contest
Feb 10 2010
Press Release:
LUMIQUEST FLICKR GROUP PHOTO CONTEST
New Braunfels, Texas – February 10, 2010
The recently launched LumiQuest Flickr site http://www.flickr.com/groups/lumiquest/ is conducting a photo contest for both professional and amateur photographers, with the Grand Prize winner being featured in the "Who Uses LumiQuest" ad campaign.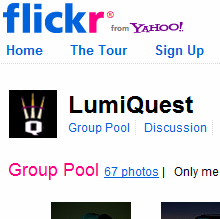 Working with LumiQuest, Daniel Milchev, a professional photographer out of Vail, CO set up the site and is the Co- Group Administrator, with Connor Walberg another Pro from Vail.
Along with Quest Couch, designer of LumiQuest products the Group Administrators will select the monthly contest winners. The winners will have their choice of 2 LumiQuest products from the featured product assortment plus a Cinch Strap. At the end of the year one photographer's image will be selected as the Grand Prize winner and will be appear in the "Who Uses LumiQuest" 2011 ad campaign along with other noted photographers.
"This contest is a great opportunity for photographers, especially the up and coming young talent to post their images and have the opportunity to be part of our 2011 ad campaign along side noted photographers such as Joe McNally, Don Gale, David Hobby and Nevada Wier just to name a few." said Quest Couch.
Images posted on the site and submitted for the photo contest must have been shot using a LumiQuest product. The complete rules and regulations are available on the LumiQuest Flickr site.
For further information contact:
Heidi Kenny
[email protected]
830-438-4646
If you have any questions or comments, please post them below.
Comments