HonlPhoto Gold-Silver Reflector Snoot release
Feb 24 2010
HonlPhoto releases Gold-Silver Reflector. It is the same as the original Speed Reflector/Snoot, but it features a gold-silver reflecting surface instead of a silver one. Therefore, the new reflector produces nice warm tones often desirable in portraiture.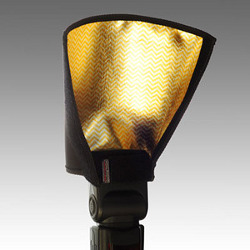 HonlPhoto Gold-Silver Reflector converts to a snoot as easily as the original reflector, but it comes only in one size of 8".
Update: Honl Photo Gold-Silver Reflector vs. original (silver) version
See also:
If you have any questions or comments, please post them below.
Comments