F16 P45A-001 flash reflector from F22 Design Studio (Hong Kong)
Jun 10 2009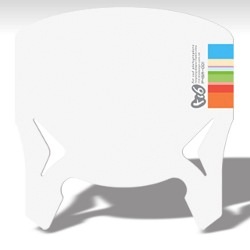 F22 Design Studio (Hong Kong) has released their first flash light modifier. The F16 P45A-001 flash reflector is a variation of a bounce card. The reflector can be attached with Velcro patches and a rubber band at various angles. To change the angle, you have to detach the unit, which is not as convenient compared to other alternatives on the market.
The selling point of F16 P45A-001 flash reflector seems to be its look. The creators claim that this is "the coolest flash reflector ever made for photographers." The shape of P45A-001 is indeed appealing. As to the functionality, we'll post a review as soon as we get a chance to try this new gadget.
The price of a single unit is about $18 (140 Hong Kong dollars).
The following is the official press release we received from Patrick Yeung, who is with F22 Design Studio (Hong Kong).
Press Release:
Hong Kong, June 10, 2009
The flash reflector P45A-001 under the brand name f16 is released on the 10th of June 2009.
After comparing similar products in the market, the f22 design studio design team decided to release a flash reflector that is universal, handy, simple, and easy to use.
Soften flash light
The matte white finish of P45A-001 can soften flash light and increase angle of coverage. The flash light reflected by P45A-001 is more even and thus creates much better contrast, harsh shadow will be improved.
Increase the size of light source
The size of P45A-001 is about 5 times the size of a flash head. As the bigger the relative size of a light source to a subject, the better the light quality, P45A-001 will definitely do the job for shooting small objects for web production and macro work.
Indoor flash photography
P45A-001 is also good for indoor flash photography. It can direct flash light to ceiling and reflect more light to the subject. Flash light coverage is more even by using P45A-001 with ceiling re-bounce technique.
Easy to carry
P45A-001 is made of soft plastic. It is just like a thin card board which can be carried in a small camera bag without occupying much room.
Universal
The P45A-001 comes with 2 pairs of magic tape and a rubber band. It may be used on most flashes with titling heads in the market.
The price of P45A-001 is only 140HKD with free shipping world wide. Discount for bulk order is available.
For more information please visit http://f16.f22design.com.hk
If you have any questions or comments, please post them below.
Comments