Moving Water Techniques for Digital SLR Cameras
May 02 2011
Buy from Amazon.com
Hoya 67mm Polarizer
Camera Lens Round Filters
)
Hoya 67mm ND Filter
Camera Lens Round Filters
)
Often, when I go out hiking, I see many people with cameras. Very few people if any, other than me, carry a tripod. Most people either underestimate or don't know the importance of this piece of equipment. Tripods generally don't have to be expensive or fancy to do their job. I find that for doing photography of moving water, it is an essential piece of equipment. Moving water photography includes rivers, streams, waterfalls, and can also include fountains. One thing you don't need when taking pictures of water at a low shutter speed is a flash. Turn it off, as it may add harsh and undesirable reflections in the water.
Gear
I don't hand hold my camera when I am taking pictures of moving water. Many people do, but the photography technique I use requires a tripod. I also highly recommend using polarizing filters and considering neutral density filters as optional, but very useful accessory. Both polarizing and neutral density filters slow down the exposure. To find the correct filter size for your lens, look for the symbol "Ø" with a number next to it. The number will be the filter size you need for that lens. For example, if your lens has "Ø 72", you will need 72mm filters for it. "Ø 67" would require a 67mm filter, and so onů
When I take pictures of water, I always start with the polarizing filter, which has a front element that spins. As you spin the front element, you can observe how it affects the reflections on the water. As the reflections are reduced, you can actually see into the water. When you achieve the effect you like, stop moving the filter. If the water is shallow, you will be able to see the rocks under the water, which gives a feeling of depth. While this technique allows you to see through the water that is relatively still, the appearance of moving water will be relatively unaffected by this filter.
Camera settings
A slow shutter speed is highly desirable, in my opinion, for taking moving water pictures. In fact, I try at all times to keep my shutter speeds at 1/4 second or slower for this type of photography. To use the slowest shutter speed possible, you have to use the lowest possible ISO setting on your camera. This typically varies from ISO 80 up to ISO 200, depending on your camera. You should also use aperture priority mode indicated by the letter "A", and the aperture (f/stop) should be set to the highest possible number. The higher the f/stop number, the smaller the opening is for light to come in. Therefore, you will need a longer shutter speed. (Please refer to your camera's user manual to see how to manually select ISO speed and how to set the aperture.) In aperture priority mode, you will select the f/stop, and the camera will automatically choose the "correct" shutter speed. I put correct in quotes, because sometimes the camera will under- or overexpose the picture. You may need to adjust it depending on your situation. If your camera says "low" or "bulb" for the shutter speed, you need to open up the aperture little by little until your camera can show a shutter speed. It would be possible to use shutter priority mode marked by "S," but in my experience, it is easier to work with aperture priority mode. This is because there are many acceptable shutter speeds to work with when shooting moving water using this technique. Generally, I find that anything from 1/4 second up to 30 seconds provides good results, so you will have a lot of room to work with. So, what if you've set your ISO to the lowest speed, selected the f/stop with the highest number, attached a polarizer, but your shutter speed is still quicker than the ideal range? You can attach a neutral density filter to the polarizer to slow it down some more. Minimizing the number of filters is recommended because there will be some loss of image quality with each filter you add. That's why I only suggest using the neutral density filter as a last resort when using this technique.
Examples
Below are the summaries of different camera and lens settings I used on each picture.
Pictures 1 to 3 show the same scene, and they were all taken tripod mounted. Pictures 1 & 2 both use a polarizer and show the effect of different shutter speeds on the water. Picture 3 does not use a polarizer and shows significantly more reflections than you see in pictures 1 & 2. This was done to demonstrate the difference you get when you utilize a polarizer from when you don't use one.
| | |
| --- | --- |
| | |
| f/29, 8 second exposure, polarizer used, tripod mounted, zoom set to 44mm | f/4.8, 1/5 second exposure, polarizer used, tripod mounted, zoom set to 44mm |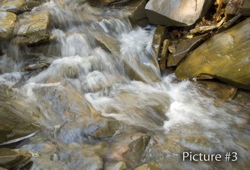 f/5.6, 1/10 second exposure, no polarizer, tripod mounted, zoom set to 44mm
Pictures 4 & 5 were both taken with no polarizer. Picture 5 was taken handheld at 1/80 second, and it has a look pretty typical of what most people would take. Picture 4 was taken tripod mounted with a low shutter speed. These were done specifically to show the difference that can be achieved using only a tripod and slow shutter speed.
| | |
| --- | --- |
| | |
| f/5.6, 1/6 second exposure, no polarizer, tripod mounted, zoom set to 80mm | f/5.6, 1/80 second exposure, no polarizer, hand held, zoom set to 80mm |
Guest writer: Catherine Elizabeth Abida

In 1998, I saw what I believed to be a tornado forming over a small Western NY lake, grabbed my camera and started snapping pictures. I discovered almost immediately I was hooked on outdoor photography. Today I primarily shoot outdoor water scenes and have a real passion for waterfalls, rivers and streams. I also really enjoy macro photography which I do using a reversed lens. I am able to do portrait photography as well, and have instructed people on how to use off camera flash techniques and light modifiers, but my real love is and always will be beautiful nature scenes.

Web-links:
http://www.facebook.com/pages/Catherine-Abida-Photography/110679828976905
http://catherine-abida.smugmug.com
If you have any questions or comments, please post them below.
Comments